PRIMARY PALETTE
AUGUSTA BLUE
SPOT: PMS 540C or 540U
CMYK: 100 / 57 / 12 / 61
RGB: 0 / 51 / 89
WEB: 002f55
SECONDARY PALETTE
CLINICAL BLUE
SPOT: PMS 631C or 631U
CMYK (U): 58 / 0 / 13 / 0
CMYK (C): 73 / 0 / 11 / 0
RGB: 60 / 182 / 206
WEB: 3CB6CE
ACCENT BLUE
SPOT: PMS 542C or 543U
CMYK (U): 49 / 9 / 6 / 1
CMYK (C): 64 / 19 / 1 / 4
RGB: 100 / 160 / 200
WEB: 64A0C8
AUGUSTA GREY
SPOT: PMS 429C or 429U
CMYK: 21 / 11 / 9 / 22
RGB: 165 / 172 / 175
WEB: A5ACAF
ATHLETIC BLUE
SPOT: PMS Process Cyan
CMYK: 100 / 0 / 0 / 0
RGB: 0 / 174 / 239
WEB: 00AEEF
ACCENT GREEN
SPOT: PMS 802C NEON
CMYK: 54 / 0 / 100 / 0
RGB: 68 / 214 / 44
WEB: #44D62C
Primary Use
The official logo colors are blue (PMS 540), grey (PMS 429) and white. No other logo colors are acceptable.
PMS 542 blue is used as an accent to the university logo.The high key blue accent is PANTONE Process Cyan and should only be used with athletic communications.
Address questions about approved university colors to the Division of Communications and Marketing.
Note college colors will remain the same per academic standards.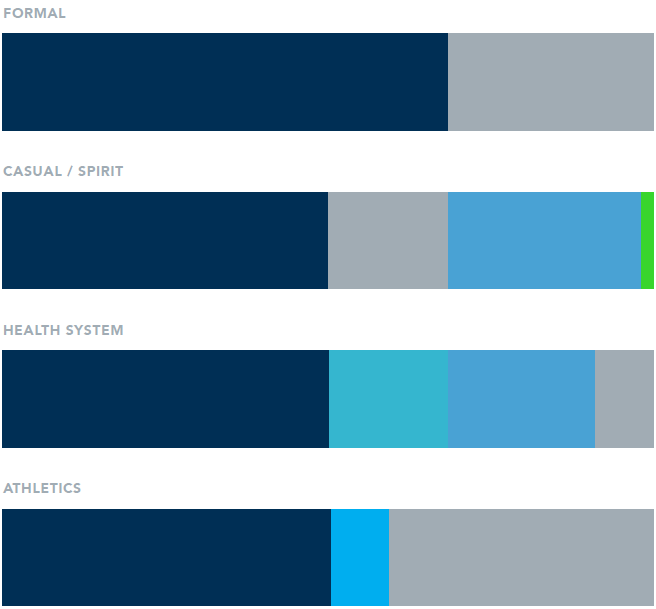 Using Color
Please use the appropriate balance of university brand colors in all communications. Use the grid to the left as a guide to understanding how to use color based on audience or communication type.
CAMPAIGN COLORS
In some instances, campaign-specific colors can be incorporated into design and layout. Do not use unapproved colors.